The battle of the thermostat can finally be won. Cozy up with smart climate control the entire family can agree on! Smart home climate controls can help in scheduling, easily integrate voice control capabilities, even give you control with shades and fans. It's your home, only more comfortable.
Advanced presets and scheduling
Voice control of thermostat
Energy efficient climate control
Convenient management of pool or spa
Personalize your comfort settings
Activate on a schedule, with a tap on your phone, touch screen or by voice
Easily raise, lower or tilt individual window coverings or a group of motorized blinds or shades in your home
Light the fireplace without leaving the couch
Want to eliminate wall clutter or bulky thermostats?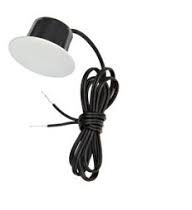 The Flush Mount Temperature Sensor provides temperature monitoring with a virtually invisible appearance on the wall. It only requires a 1″ hole at the desired location and can be painted to match the wall.
Relax, enjoy, and experience the comfort and convenience of a Smart Home!
Call us today to schedule a demo!