We bring our quality craftsmanship to your home, design state of the art custom home theaters to install the most advanced equipment on the market that will custom fit your needs. Our innovative ideas and designs are the cutting edge of our trade. With over 27 years of experience, our team of experts will help you design a custom home system based on your personal distinctive lifestyle that will simplify your life, giving you peace of mind.
Customer satisfaction is a top priority. We strive to meet all your needs and provide you with the best personalized service to meet your specific lifestyle, going above and beyond your expectations. We are not just here for the sale, we are here to serve you, making technical support readily available for you long after the sale. Going that extra mile for our clients sets us apart from any other.
Affiliations & Certifications
Texas Certified Security Contractor License #B09380601
Texas Certified Electronic Access Company License #B09380601
Texas Burglar Alarm Company License #B09380601
How We Can Make Your Home Smart
Smart Home & Automation solutions are not one size fits all. They are completely customizable solutions perfect for all sorts of spaces and budgets, aimed to make life at home more convenient and enjoyable. Our smart home professionals are experts at turning your house into a dream haven.
Meet the Dream Team
Our Dream Team can design and customize the smart home of your dreams. Let our highly trained designers and installers personalize your whole home automation experience.
What Is Control4 Home Automation?
There's so much to accomplish in your day, wouldn't it be nice if your house was able to manage itself? Thankfully, home automation makes it easy to connect your entire home, so everything works together to make entertainment systems easier to use, homes more comfortable and energy efficient, and families more secure.
Start Small, Go Big
Home automation shouldn't be one size fits all. Control4 gives you the ability to automate at your own pace, as your time and budget allow. Start in one room and add solutions and products as you go. No matter how old (or new) your home is, there is a Control4 system that will work for you.
You're In Control
A certified Control4 installer ensures your system and network is set up correctly. After the initial installation, as routines and schedules change, so can your automation. When >> Then Automation makes it simple to make changes and adjustments without your dealer with just a few clicks.
A Reliable Network
Smart homes are filled with connected devices, smartphones, streaming services, and more. That's why a high-performing network is crucial. Control4's Pakedge networking solutions feature the highest-quality products – designed for the demands of your connected home.
Complexity Made Simple
A connected home should not be a complex home. That's why Control4, and the 10,000 devices that work in the Control4 ecosystem, works to deliver simple, intuitive, personalized control that allows the devices in your home to work together in orchestration. All designed exclusively with YOU in mind.
Smart Home Magazine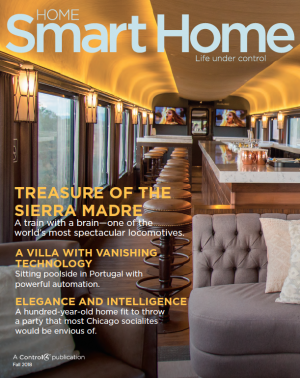 See the latest trends in home control solutions and smart devices. Learn how you can improve your like with home automation.